Hindi Kala presents Dikhai Diye Yun lyrics in Hindi & English Translation from the movie Bazaar (1982). The song sung by Lata Mangeshkar.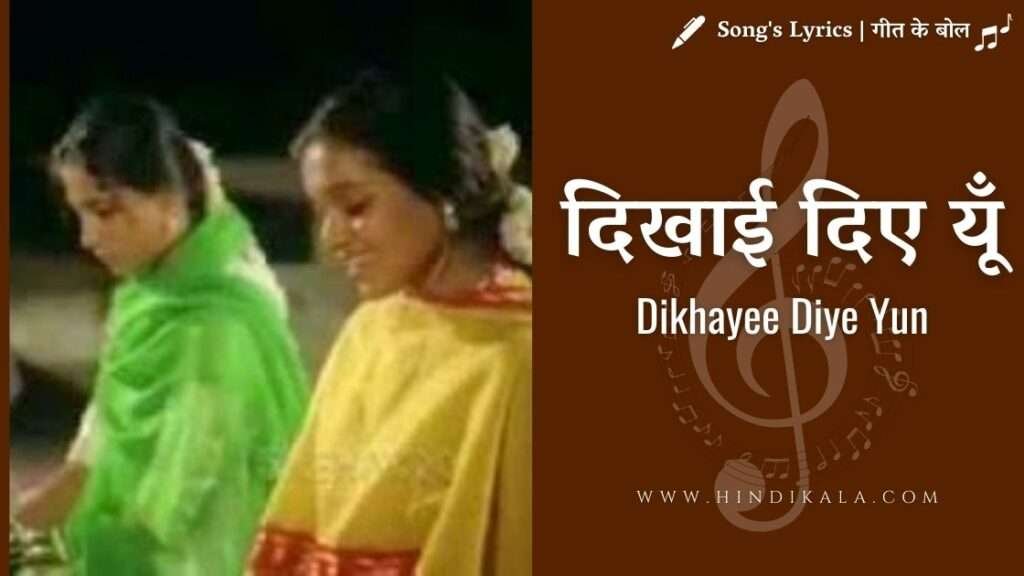 The more you listen the more you want to listen, that's the beauty of this song. The beauty of Ghazals is to exactly pinpoint the correct meaning because of the use of Metaphors. The words though simple convey different feelings depending on the context. It can express various thoughts subject to who is reading it. A classic by Khayyam and Lata.
For many years I have been hearing this song without knowing its true meaning and have been appreciating the beauty of the song but when I came to know about the meaning and context of the song I have started worshipping it.
Dikhai Diye Yun Lyrics in Hindi
दिखाई दिए यूँ कि बेखुद किया
हमें आप से भी जुदा कर चले
 
जबीं सजदा करते ही करते गई
हक़-ए-बंदगी हम अदा कर चले
 
परस्तिश किया तक कि ऐ बुत तुझे
नज़र में सबो की ख़ुदा कर चले
 
बहुत आरज़ू थी गली की तेरी
सो यास-ए-लहू में नहा कर चले
---
Movie: Bazaar (1982) / बाज़ार
Music: Khayyam / खैय्याम
Lyrics: Mir Taqi Mir / मिर तकी मिर
Singer: Lata Mangeshkar / लता मंगेशकर
Performed By: Supriya Pathak, Smita Patil, Naseeruddin Shah, Farooq Shaikh
---
English Lyrics & Translation
Dikhayi Diye Yoon Ke Bekhudh Kiya
Humein Aapse Bhi Judaa Kar Chale
(Saw you in such a way that made me forget myself
You separated me from even myself)
 
Jabi Sajda Karte Hi karte Gayi
Haq-E-Bandgi Hum Adaa Kar Chale
(My head kept bowing in prayers for you
I fulfilled my duty of being truthfully devoted)
 
Parastish Kiya Tak Ke Aye But Tujhe
Nazar Mein Sabon ki Khuda Kar Chale
(I worshiped you to the extent
I made you God in everyone's eyes)
 
Bahut Arzoo Thi Gali Ki Teri
So Yaas-e-Lahoo Mein Naha Kar Chale
(I desired a lot for the way to your home
So I leave from here bathed in blood)
---
जबीं/Jabi = Forehead
बेखुद/Bekhud = In Ecstasy, Delirious
सजदा/Sajdaa = Bow In Prayer
परस्तिश/Parastish = Adoration, Worship
बुत/But = Beloved, Lover
यास/Yaas=Despair, Dejection, Disappointment
---
Here we giving you complete Ghzal by Mir Taqi Mir
फ़कीराना आए सदा कर चले
मियाँ खुश रहो हम दुआ कर चले
जो तुझ बिन न जीने को कहते थे हम
सो इस अहद को अब वफ़ा कर चले
कोई ना-उम्मीदाना करते निगाह
सो तुम हम से मुँह भी छिपा कर चले
बहोत आरजू थी गली की तेरी
सो याँ से लहू में नहा कर चले
दिखाई दिए यूं कि बेखुद किया
हमें आप से भी जुदा कर चले
जबीं सजदा करते ही करते गई
हक-ऐ-बंदगी हम अदा कर चले
परस्तिश की याँ तैं कि ऐ बुत तुझे
नज़र में सबों की खुदा कर चले
गई उम्र दर बंद-ऐ-फिक्र-ऐ-ग़ज़ल
सो इस फ़न को ऐसा बड़ा कर चले
कहें क्या जो पूछे कोई हम से "मीर"
जहाँ में तुम आए थे, क्या कर चले
---
Tags:
Best Hindi Lyrics Songs
,
Farooq Shaikh Songs (Actor)
,
Hindi Songs Lyrics from 1980's
,
HIndi Songs Lyrics from Year 1982
,
Hindi Songs Starts with D
,
Khayyam Songs (Artist)
,
Lata Mangeshkar Songs
,
Mir Taqi Mir | मिर तकी मिर (Writer)
,
Most Favorites Hindi Songs
,
Naseeruddin Shah Songs (Actor)
,
Poetry on word Aap
,
Poetry on word Aarzoo
,
Poetry on word Bandgi
,
Poetry on word Bekhudi
,
Poetry on word Dikhana
,
Poetry on word Gali
,
Poetry on word Hum
,
Poetry on word Judai
,
Poetry on word Khuda | ख़ुदा
,
Poetry on word Lahoo
,
Poetry on word Nahana
,
Poetry on word Nazar
,
Poetry on word Sajda
,
Supriya Pathak (Actress)
---