Hindi Kala presents you lyrics of tu jo nahin hai to kuchh bhi nahin hai song and its English Translation from movie Woh Lamhe (2006)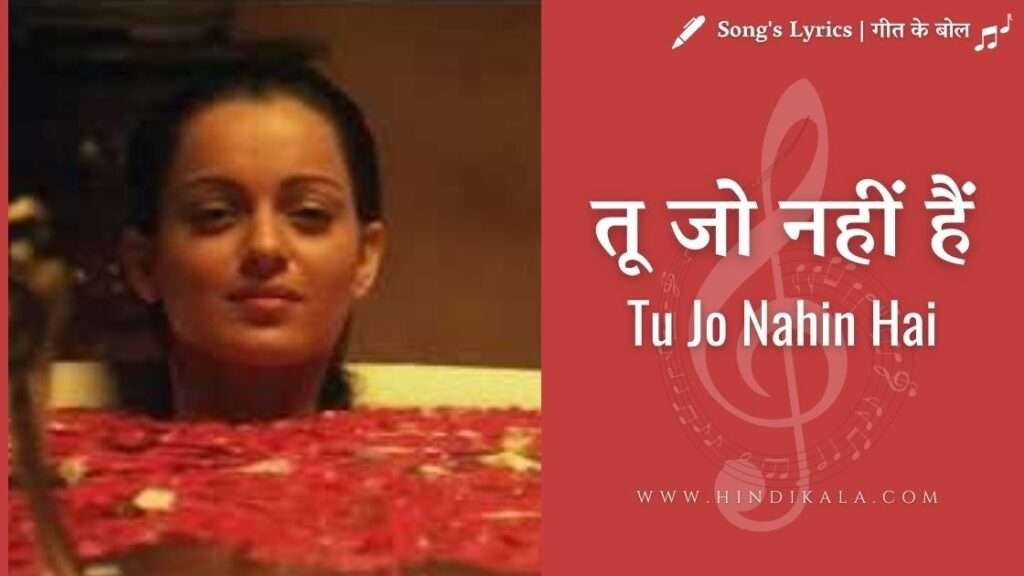 Glenn John is a Superb Singer and he is the son of Pakistani Singer Mr. S. B. John. This movie is supposedly based on the life of Bollywood actress Parveen Babi and her relationship with director Mahesh Bhatt.
Tu Jo Nahi Hai Song Lyrics in Hindi from Movie Woh Lamhe
तू जो नहीं हैं तो कुछ भी नहीं है
ये माना की महफ़िल जवान है हसीं हैं

मुझे फिर तबाह कर, मुझे फिर रुला जा
सितम करने वाले, कहीं से तू आ जा
आँखों में तेरी ही, सूरत बसी है
तेरी ही तरह तेरा गम भी हंसी है
तू जो नहीं…

समझ में न आये, ये क्या माजरा है
तुझे पा के दिल में ये खाली सा क्या है
क्यूँ हर वक़्त दिल में कोई बेकली है
क्यूँ हर वक़्त सीने में रहती कमी है
तू जो नहीं…

जिधर भी ये देखें, जहां भी ये जाएँ
तुझे ढूंढती है, ये पागल निगाहें
मैं जिंदा हूँ लेकिन, कहाँ ज़िन्दगी है
मेरी ज़िन्दगी तू कहाँ खो गयी है
तू जो नहीं…

******************************************
Movie : Woh Lamhe (2006) / वो लम्हें
Music : Pritam Chakraborty / प्रीतम चक्रबर्ती
Lyrics : Sayeed Quadri
Singer : Glenn John / ग्लेन जॉन
Performed By: Kangna Ranaut, Shiney Ahuja
******************************************
Tu Jo Nahin Hai Song Lyrics & Translation in English
Tu Jo Nahi Hai To Kuch Bhi Nahi Hai
Yeh Mana Ki Mehfil Jawaan Hai Haseen Hai
(If you're not here, there's nothing here for me
Sure, the company is young and beautiful)
Mujhe Phir Tabaah Kar, Mujhe Phir Rula Ja
Sitam Karne Wale, Kahin Se Tu Aa Ja
Aankhon Mein Teri Hi, Soorat Basi Hai
Teri Hi Tarah Tera Gham Bhi Haseen Hai
Tu Jo Nahi Hai…
(Come and destroy me and make me cry again
Oh my love, come from somewhere
your face is in my eyes only
like you, the pain of your's is also beautiful
if you are not here..)
Samajh Mein Naa Aaye, Yeh Kya Maazra Hai
Tujhe Pa Ke Dil Mein Yeh Khaali Sa Kya Hai
Kyun Har Waqt Dil Mein Koi Bekasi Hai
Kyun Har Waqt Seene Mein Rahti Kami Hai
Tu Jo Nahi Hai…
(I don't understand what sort of state I'm in
Now that I've finally found you, why is there this sort of emptiness in my heart?
Why does my heart feel some eargerness all the time
Why does my heart constantly sense that something's missing? 
If you are not here..)
Jidhar Bhi Yeh Dekhe, Jahan Bhi Yeh Jaye
Tujhe Dhoondhti Hai, Yeh Pagal Nigahein
Main Zinda Hoon Lekin, Kahan Zindgi Hai?
Meri Zindgi Tu Kahan Kho Gayi Hai
Tu Jo Nahi Hai..
(Wherever They see, where they goes
my mad eyes search for you
i'm alive but where is life?
oh my life where you lost?
if you are not here..)
Tags:
English Translation of Hindi Songs
,
Hindi Songs Lyrics from 2000's
,
Hindi Songs Lyrics from Year 2006
,
Kangana Ranaut Songs (Actress)
,
Poetry on word Aankh
,
Poetry on word Gham
,
Poetry on word Haseen
,
Poetry on word Jawani
,
Poetry on word Khaali
,
Poetry on word Kuch
,
Poetry on word Maazra
,
Poetry on word Mehfil
,
Poetry on word Nigaah
,
Poetry on word Rulana
,
Poetry on word Sitam
,
Poetry on word Soorat
,
Poetry on word Tabaah
,
Poetry on word Waqt
,
Poetry on word Zinda
,
Poetry on word Zindgi
,
Pritam Song (Artist)
,
Sad Songs
,
Sayeed Qadri | सईद कादरी (Writer)
,
Shiney Ahuja (Actor)
You Might Also Like: